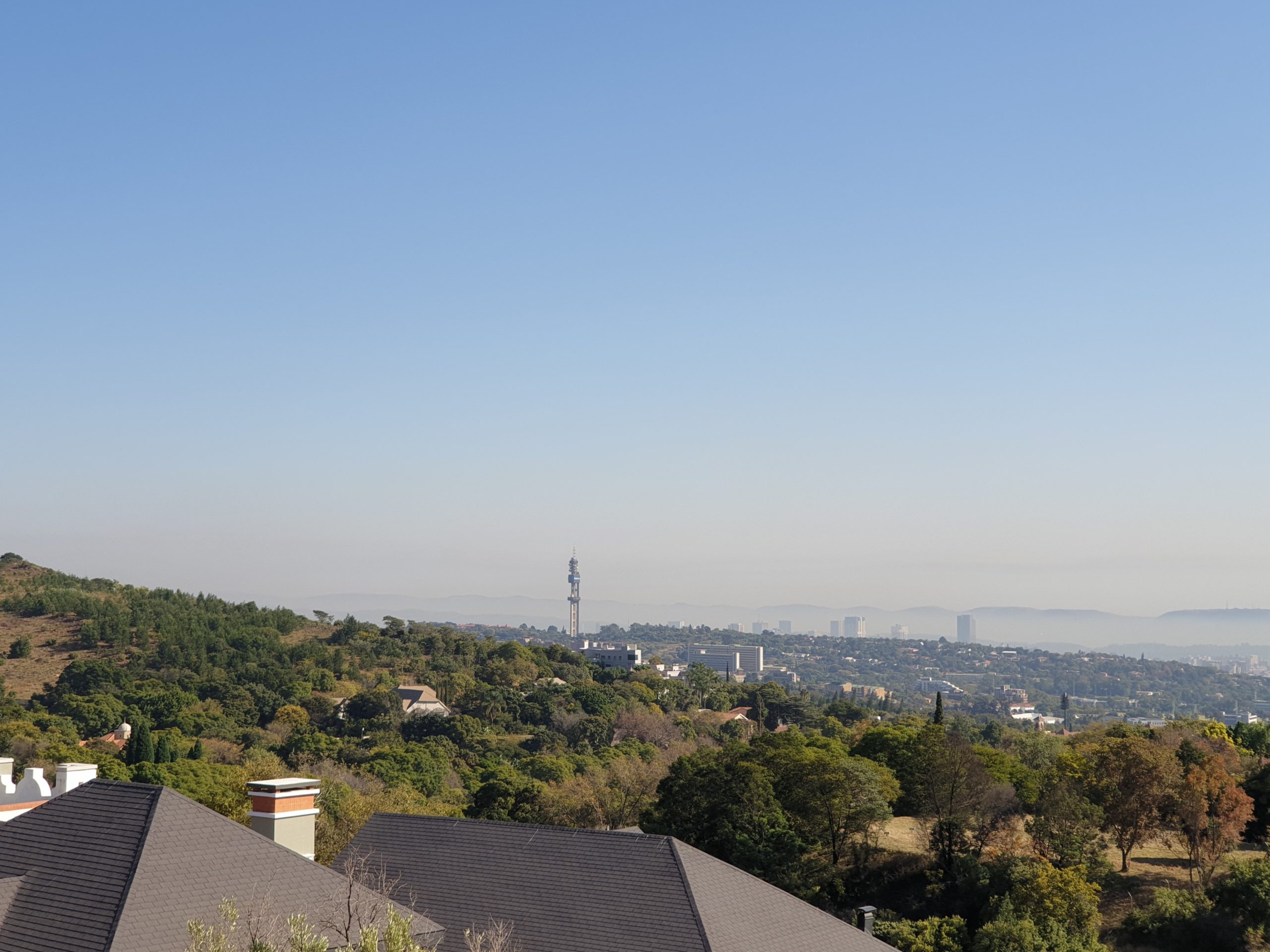 A view of Pretoria from the New Zealand Official Residence
The lighter side of lockdown
I want to post a piece about the security issues we face in South Africa. However, my last two posts have come to some rather depressing conclusions. I needed to break the monotony of disease, destruction, and death. So, here is a taste of the lighter side of lockdown, South African style. No attempts at insight from me. Just a compilation of work that the locals have been producing.
Don't panic buy
Back in late-March, just before the lockdown started, an advert in the form of a music video was released by South African supermarket chain, Pick n Pay. It features a dozen South African performers singing together on a video chat. Their message is: Don't Panic Buy, Shop Thoughtfully. I love it. 
Researching each of the performers appearing in the video also helped kickstart my knowledge of the current South African music scene.
Just one example: the guy with the funny hat is Afrikaans rapper, Jack Paraw. In this music video from 2018 he raps about the effects of excess alcohol including, and I'll leave you to figure out the translation, feeling like "ek plat getackle is deur Jono fokken Lomo".
Lasizwe Dambuza
Comedian, Lasizwe Dambuza, has been making the most of lockdown with a series of one-man comedy sketches. Lasizwe is a TV celebrity here, but began his career posting funny homemade videos on YouTube. With everyone stuck at home, he is in his element.
While there were growing calls to reopen the public schools in South Africa last month, Lasizwe was predicting the disaster that would follow:
And here is Lasizwe doing… well, I am not exactly sure what he is doing but I found it pretty funny anyway:
Chester Missing
Chester Missing is a puppet. Ventriloquist, Conrad Koch, is (in Chester's words) the white guy with his hand up Chester's butt.
But Chester is famous in South African in his own right. Apparently, he won the Ahmed Kathrada Foundation's inaugural Anti-Racism Award. Chester also has his own Twitter account and has been posting his views on lockdown life.
In this clip, Chester talks about the sports reporters who, like Peter Gabriel and Kate Bush, are determined not to give up:
Sports reporters. pic.twitter.com/20BNHQlKL3

— Chester Missing (@chestermissing) June 5, 2020
Wearing a mask is compulsory in South Africa whenever anyone is out of the house. But as Chester explains here, with despair, most people are not very good at using them:
Masks. pic.twitter.com/YnQzm9MbSd

— Chester Missing (@chestermissing) June 4, 2020
Ramaphosa's new TV channel
I linked to this in an earlier post but thought I would put it here as well. When President Cyril Ramaphosa announced the requirement for South Africans to wear masks, he tried to demonstrate. It all went horribly wrong. Luckily, Ramaphosa was capable of seeing the funny side himself. He announced his intention to start a new TV show. Watch below if you haven't seen it already.
The same story also made it onto Trevor Noah's Daily Social Distancing Show.
The Kiffness
David Scott, founder of Cape Town act The Kiffness, has been spending his lockdown making lockdown themed parodies of popular songs.
There are quite a few and I had trouble picking out my favourites. Here is "I get Locked Down":
And a very sweet "Father and Son" duet with his dad:
But check them all out and, in particular, "The Sound of Sirens" and "Do You Believe in Life After Lockdown?". If you want to hear some tracks from The Kiffness, check out their website and their YouTube channel.
The South Africans are crazy
And then, of course, there are all the crazy things that the locals are doing in their own homes to pass the time during lockdown. One of South Africa's local news stations has been producing compilations video of these antics.
They are now up to their fourth compilation video. You can find on YouTube the first, second, and third editions. But for the latest one you have to go to News24's website. I think they are getting better. So, if you plan to subject yourself to more than one I suggest watching them in reverse order.